Next year is the summer of the european Championship and the German brand presents the new UNIFORIA ball.
Before we talk about Uniforia let's do a little review of its predecessors:


- 1968 Italy, Telstar Elast ball. The hosts won the title, so far the only one the Italians own.


- 1972 Belgium, Telstar ball. "Torpedo" Mueller's Germany won.


- 1976 Yugoslavia, Telstar Durlast ball. It will be remembered for Antonin Paneka's penalty goal, which this type of penalty was named after.


- 1980 Italy, Tango River Plate ball. Germany took the title again, this time led by Bern Shuster.


- 1984 France, World Cup Tango ball. Michel Platini's European Championship, 9 goals in 5 games leading the blues to win the title.


- 1988 Germany, Tango Europa ball. The Clockwork Orange left behind their defeats in the finals and this time became the champions. A volley by the great Van Basten remains etched on our retinas.


- 1992 Sweden, Etrusco Unico ball. Denmark (who took part at the last minute to replace a Yugoslavia immersed in the Balkans War) produced a shock win and took the championship.


- 1996 England, Questra Europa ball. The golden goal was set up, which Bierhoff took advantage of in the final to make Germany champions once again.


- 2000 Holland/Belgium, Terrestra Silverstream ball. The first European Championship was held in two different countries. A magician named Zidane and a golden goal in the Trezeguet final secured the Championship for the blues.


- 2004 Portugal, Roteiro ball. With an amazed Europe looking on, Charisteas led the hosts Greece to glory in the final.


- 2008 Austria/Switzerland, Europass ball. Spain won the title with a goal by Fernado Torres in the final. Luis Aragonés laid the foundation stone for this great generation that would proclaim themselves world champions in South Africa two years later.


- 2012 Poland/Ukraine, Tango 12 ball. Spain were already world champions and laid down the law, winning a title once more.


- 2016 France, Bea Jeu ball. Cristiano Ronaldo's Portugal picked up the title for the first time in their history, with an Eder goal in the final.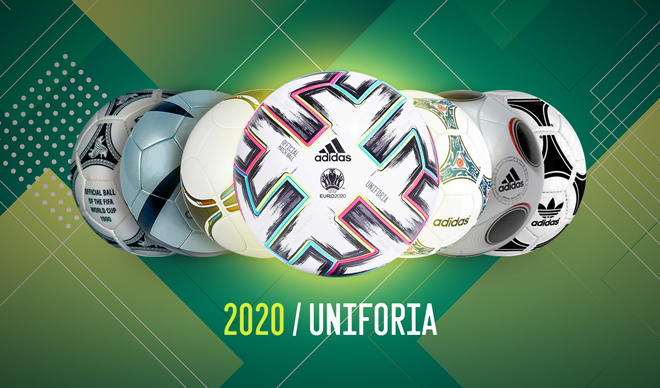 This edition will be the competition's 60th anniversary and UEFA has prepared a different format to what we have seen so far. There will be 12 host cities for the first time: London, Baku, Munich, Rome, St. Petersburg; Amsterdam, Bilbao, Bucharest, Budapest, Copenhagen, Dublin and Glasgow.


This new format has inspired Adidas' ball design. Unity and euphoria are what this story is all about, 12 host cities, 24 selections. A tribute to football and culture. A continent united to enjoy the best football has to offer.


Technical specifications


- 100% polyester cover


- Textured surface


- Seamless, thermally sealed


- Rubber bladder