The football boot that elevates speed to its maximum power.
Today we have come to the green carpet to trial the latest special edition of football boots created by the American brand Neymar Jr. for the Paris St Germain player (until now) of the same name.



The new work tools for Neymar Jr are the Mercurial Vapor Shhh Edition. As opposed to what many people think when they see the campaign slogan Shhh, implying that Neymar Jr makes his adversaries or rival supporters be quiet. The Shhh edition is inspired by the tattoos that he wears on the inside of his index finger and which signify Neymar Jr's most private moments in which there is only him, alone, in silence and focussed on his thoughts.
"Shhh is not trying to silence the rest of the world… it is about me being in silence and centred on what I have to do for my future as a player and as a man…" Neymar JR.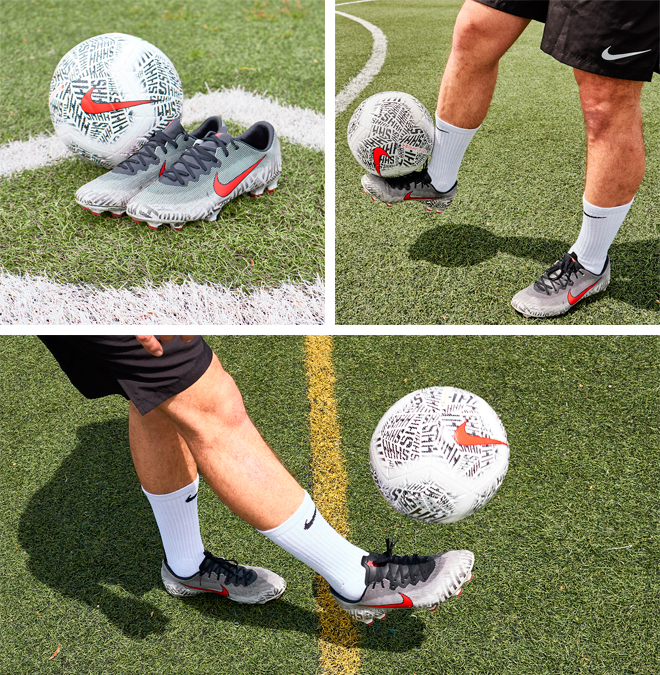 The inscription of Shhh in tones of black, grey and white is very notable, along with the red-coloured swoosh. On the back of the boot, you will find the inscription of his name and two symbols which mean a lot to Neymar Jr, the diamond and the crown.
This Mercurial Vapor Shhh is no technically different from the original Mercurial Vapor, but I will refresh your memory a little and tell you about the technical features and my thoughts on these:

-The upper part is built of texturized synthetic leather which hugs your foot and adjusts in a very similar way to the flyknit (apart from distances). The NIKESKIN covering gives it flexibility and greater durability.
-The All Condition Control (ACC) technology offers greater control of the ball in damp or wet conditions.
-The modular two-piece sole reduces weight and has triangular-shaped studs for greater traction and maximum speed.

A high-end boot created for players who want to get the greatest performance from their speed and explosiveness!!!


Neymar Jr in his purest state.